Dust Control Program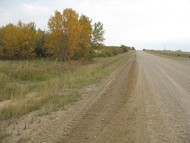 Beaver County Council has amended the Dust Control Policy. In 2017 Beaver County shall provide 50% of the cost for first applications per year. Residents that would like a subsequent application (within the same year) will be required to pay the full cost. The County reserves the right to maintain the sites in a manner suitable to the Public Works Department.
Residents desiring Spring applications of dust control on the County road adjacent to their property must apply by 8:30 am., April 15, 2017 to:
Beaver County
5120-50 St
Box 140
Ryley, Alberta T0B 4A0
Office hours: 8:30 a.m. - 4:30 p.m.
Monday to Friday
Please note: The Beaver County Service Centre will be closed on Friday, April 14 for Good Friday.
You may call the office to have an application sent direct mail.
Dust Control Application Letter
Dust Control Application Form
For more information, please call Pam at (780) 663-3730.