Beaver Management Project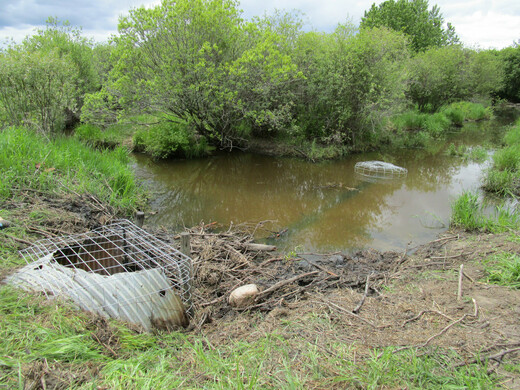 In early 2014 Beaver County Administration started to discuss the need for alternate Beaver Management methods in Beaver County, as opposed to the traditional methods of removing beaver dams or removing beavers. In March 2014, Council passed a request to adopt the Mitigating Human-Beaver Conflict through Adaptive Management research project. This project was to work with Doctor Glynnis Hood and her student research team from the University of Alberta Augustana Campus to use pond-leveling devices.
Pond leveling devices are a relatively new innovation that mitigate beaver impacts by reducing flooding of private property and infrastructure. These devices are both an environmentally friendly and cost-effective method of beaver management because they lower the water levels enough to prevent the damage of property and infrastructure, while holding enough water to support the plants and wildlife in the ponds and eliminating the need for constantly removing beaver dams.
Starting in May of 2014, Doctor Glynnis Hood and the student researchers, along with Beaver County's Wildlife and Landflood Officer, began to map out the west end of Beaver County for priority sites.  Installations of the devices began in late June and have been taking place during the summer.
If you would like more information on this project, contact Aimee Boese, Agricultural Fieldman, at 780-663-3730.
Since the beaver management program began, 10 pond leveling devices have been installed at various locations in the west end of Beaver County. 
In order to maintain the correct functioning of these devices and for your own safety, please do not damage or alter the device in any way, as they are property of Beaver County.
Research Posters
Beaver Management: Final Report
2017/2018
2017/2018 Final Report: Natural goods and services in a mixed-use landscape

Click here to view.
2016
2016 Final Report: Ecological Sustainability in Rural Landscapes
Click here to view.
2015
2015 Final Report: Mitigating Human-Beaver Conflicts through Adaptive Management
Click here to view.
2014
2014 Final Report: Mitigating Human-Beaver Conflicts through Adaptive Management
Click here to view.
Beaver Management: Building the Pond Levelling Device
Check out these students building a pond levelling device.
Part 1:
Part 2: