Grant program to support health and safety on farms and ranches
Farm Health and Safety Producer Grant Program
This grant will help eligible agriculture employers comply with new occupational health and safety (OHS) requirements and offset some of the costs employers may incur in complying with OHS regulations for farms and ranches, which take effect Dec. 1, 2018.
Sustainable Agriculture
The Beaver County Agricultural Service Board strives to educate producers on the latest developments in sustainable agriculture and, provide opportunities for producers to make informative decisions to not only farm for today but for the future as well. 
 Some sustainable agriculture services provided by the Beaver County ASB are:
Soil and water conservation programs
Promote, advise, and assist producers in appropriate soil, land, and water management to enhance the economic viability of producers within Beaver County under the ASB Act
Information on shelterbelts
Applied research and demonstration
Coordination of programs which tie together Federal, Provincial, and Municipal governments
Promote the needs and issues of local producers as they relate to government policies
Environmental Farm Plan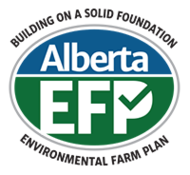 Effective April 1, 2018, producers will need to have an EFP completion letter dated within the last 10 years, of the date of application, to be considered current and eligible for cost-share funding with the Environmental Sustainability and Climate Change programs of the Canadian Agriculture Partnership(CAP).
If you would like assistance with:
Completing a previous EFP that has been started
OR
Starting a new online WebBook
Please contact Aimee Boese at 780-663-3730 or aboese@beaver.ab.ca .
Additional information on the Environmental Farm Plan Program can be found at: http://www.albertaefp.com/
Funding Opportunities
New Canadian Agricultural Partnership (CAP)
The Canadian Agricultural Partnership (CAP) is a five-year, $3 billion federal-provincial-territorial initiative aimed at generating economic growth in the agricultural sector and delivering the greatest benefits for farmers, food processors and Canadian families. CAP is in effect from April 1, 2018 to March 31, 2023 and replaces the previous Growing Forward 2 program.
The roll-out of the CAP program suite in Alberta will begin in April, 2018. It will consist of a phased roll-out of 15 programs over the spring, summer and fall of 2018. Applications and program details consisting of cost-shares and eligible activities and/or items will be released with the opening of each program. The criteria for eligibility will be made available along with the program details.
In Alberta, CAP will deliver programs developed in consultation with stakeholders, and is organized under five themes: Environmental Sustainability and Climate Change; Products, Market Growth and Diversification; Science and Research; Risk Management; and Public Trust.
Currently there are 4 programs open and taking applications, Farm Water, Irrigation Efficiency, Stewardship Group, and Stewardship Producer.
Detailed Descriptions of these programs can be found at: https://cap.alberta.ca/CAP/Programs
Make sure to click on the "Subscribe to Receive Program Announcements' to be updated as new programs open.
Farm Energy and Agri-Processing Program (FEAP) 
The Farm Energy and Agri-Processing Program shares costs with the agriculture and agri-processing sector on energy efficiency investments.  The Program is designed to encourage energy management which will result in cost savings, energy conservation, and ultimately reduced greenhouse gas emissions.  The Program offers financial support, subject to financial constraint, to applicants who incorporate high efficiency equipment that is identified in the applicable Funding List in their construction and/or retrofitting projects.  The grants are on a cost shared basis to cover Eligible Expenses for approved projects up to a maximum of $250 000 per Applicant.
Some elements of the program are also retroactive and equipment purchased since April 1, 2016, provided it meets eligibility criteria may be considered.
More information on this program can be found at http://www1.agric.gov.ab.ca/general/progserv.nsf/all/pgmsrv462
If you require assistance with either of these programs please contact:
Aimee Boese at aboese@beaver.ab.ca or at 780-663-3730.