The Classroom Agricultural Program is in need of Volnteers!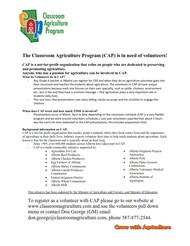 CAP is a not-for-profit organization that relies on people who are dedicated to preserving and promoting agriculture.
Anyone who has a passion for agriculture can be involved in CAP.
What do Volunteers do in CAP?
Any Grade 4 teacher in Alberta can register for CAP and when they do an agriculture volunteer goes into their classroom and teaches the students about agriculture. The volunteers in CAP all have unique presentations because each one focuses on their own specialty, such as cattle, chickens, environment etc., but in the end they have a common message – that agriculture plays a very important role in students daily lives.
          This one hour, free presentation uses story-telling, hands-on props and fun activities to engage the children.
When does CAP occur and how much TIME is involved?
Presentations occur in March, April or May depending on the volunteers schedule (CAP is a very flexible program and we work around volunteers schedules.) Last year volunteers reported that about 5 hours was the norm for time dedicated to the CAP presentations, this includes preparation time.
Background information on CAP:
CAP is a not-for profit organization that teaches grade 4 students where their food comes from and the importance of agriculture in their daily lives. Industry experts volunteer their time to help teach students about agriculture. Each lesson is free for the classroom and is typically about an hour long.
Since 1985, over 600,000 students across Alberta have taken part in CAP.
CAP is a multi-commodity initiative supported by:
Agriculture For Life
Alberta Beef Producers
Alberta Chicken Producers
Egg Farmers of Alberta
Alberta Barley Commission
Alberta Canola Producers Commission
Eastern Irrigation District
Alberta Wheat Commission
Alberta Milk
Alberta Irrigation Projects Association
Alberta Pork
Alberta Pulse Growers Commission
Alberta Veterinary Medical Association.
Alberta Institute of Agrologists
This initiative has been endorsed by the Minister of Agriculture and Forestry, and Minister of Education
 To register as a volunteer with CAP please go to our website at www.classroomagriculture.com and use the volunteers pull down menu or contact Don George (GM) email don.george@classroomagriculture.com, phone 587-877-2544.
Community Connections Mentorship Program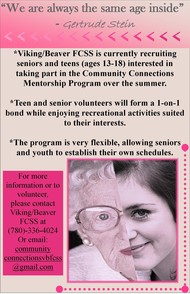 Viking/Beaver FCSS is currently recruiting seniors and teens (ages 13-18) interested in volunteering over the summer through the Community Connections Mentorship Program. Teens will be matched with a senior partner and engage in recreational activities suited to their interests.
This unique 1-on-1 opportunity allows for youth volunteers to make a difference in the life of a senior while gaining valuable volunteer experience.
For more information, or to volunteer as a senior or youth, please contact FCSS at (780)- 336-4024 or communityconnectionsvbfcss@gmail.com.
Community Adult Learning Volunteer Opportunities
Adult Tutors Needed -  Do you enjoy reading, writing and math?  Are you a thoughtful, caring and supportive person?  Do you have some time to spare each week? We have rewarding and full filling volunteer opportunities for YOU! We rely on our volunteers to help full fill the literacy needs of others in our community. As a tutor you will receive training and on going support to enhance opportunities for your personal growth.
Community Representatives Needed - Would you like to be a voice for your Community of Tofield, Ryley, Holden, Viking, Bruce or Kinsella?  
Tofield, Holden & Viking Representatives -Positions Available
Community Representatives reflect the views of the community they represent and are an integral part of our Council! Responsibilities are to: *    Act as a liaison between the Coordinator and the Community *    Take an active role in planning the courses and programs in their area and with other community representatives *    Coordinate courses and programs within their community by: *    Take course registration *    Attend the first night of the course to collect fee and complete registration forms *    Obtain the course evaluations and instructor invoices as necessary *    Attend council meetings and taking an active role in planning programs for council as a  whole *    Attend workshops and conferences when possible to enhance professional growth.
If either of these opportunities are of interest to you, please call Lavonne @ 780-663-3730