Equity Industrial Park
Beaver County is currently developing approximately 148 hectares of industrial land in Section 3-50-17-W4, known as the Equity Industrial Park. 
The Park is strategically located adjacent to the Village of Ryley, south of a state-of-the-art solid waste facility, with paved primary and secondary highways and rail transportation corridors in the immediate area. The Highway 14 regional waterline, carrying potable water as far east as the Hamlet of Kinsella, traverses the south half of the property with natural gas, electrical power, and telecommunications utilities installed in the NW quarter.  The Park is connected to the municipal sewage disposal service.
Lots are available for sale with prices varying depending on location. A development refund may be available.
Click here for a link to the listings.
Click here for the County's EIP pricing policy.
Click here for the County's Business Incentive Grant policy.
Equity Industrial Park Area Structure Plan
Equity Industrial Park Map
For more information about Equity Industrial Park, please contact Beaver County at (780) 663-3730.
Tenants include:
Alberta Tank Fabrication and Coating Ltd.
Alberta Tank Fabrication & Coating Ltd. provides design, manufacturing and coating services to meet any storage tank and general fabrication requirements.


Black Earth Humic LP
Black Earth Humic LP originally took shape in 1998, focusing on development of products and markets for high-grade reserves of humus material. The raw material of all Black Earth products is humalite - a weathered type of sub-bituminous coal found only in Alberta and mined exclusively for Black Earth Humic LP. They have since developed innovative, highly effective products for a wide range of applications in the agricultural, environmental and industrial sectors.


Walton's Warehouse

CWP Constructors Ltd.
Since being founded in 2007 as a general contractor based out of Edmonton, CWP has steadily grown its client base through positive referrals. CWP has worked with many clients such as Kiewit, City of Edmonton, Alberta Transportation, Parks Canada and Cenovus Energy. CWP Constructors has since diversified its capabilities to include new bridge construction, hydro structure works, foundation works, bridge rehabilitations, small commercial building construction, and the list goes on. CWP has built a solid reputation within Western Canada for delivering successful projects resulting in exceptional value for the client. The overall goal is to provide the services client's need, in the timeframe needed, while building lasting relationships.As a general contractor, CWP has completed work in multiple industries and disciplines. These projects have included work in multiple disciplines including Cast-in-Place Concrete, Precast Concrete, Road Earthworks, Underground Utilities, Electrical, Insulation, Mechanical Equipment, Demolition, Piling and Paving. CWP is familiar with the detailed upfront planning and coordination required between multidisciplinary trades needed to successfully complete these types of projects from start to finish.
GM Pearson Environmental Inc.
Viking/Beaver Business Park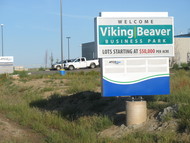 Beaver County and the Town of Viking jointly own approximately 45 acres of industrial land in Pt. of the NE 35-47-13-W4, known as the Viking/Beaver Business Park. 
The Park is strategically located adjacent to the Town of Viking with ready access to Highway 36, one of the Province's high load corridors. Utility services will include three-phase power, natural gas, telephone, water and sewer. 
Currently, a joint development plan is being prepared to facilitate development on the property, which will include light industrial and commercial services. 
The lot prices in the Viking/Beaver Business Park start at $50,000 per acre.

Viking Beaver Business Park Map 
For more information, call the County Office at (780) 663-3730 or the Town of Viking at (780) 336-3466.