Arts & Culture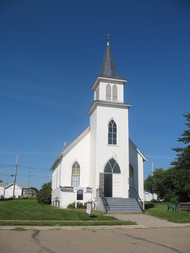 Travelling beyond the city boundaries doesn't mean you have to leave a vibrant arts scene behind.

Beaver County - home to an eclectic mix of live theatre, music, dance, visual arts and crafts - proves that even rural centres can wear their art on their sleeves.
A visit to any one of the local farmers' markets will connect you to an impressive array of artists and crafters.

Find willow furniture, jewellery, scrapbooking supplies, hand sewn quilts and more!
Entertainment Groups
Catch an entertaining performance, art show or demonstration from the following groups:
Paragon Theatre
Enjoy adult and family plays as well as new and classical movies. The Paragon Theatre also hosts a Junior Players theatre school for those in grades 4 through 12.
5019 - 50 Street, Holden
(780) 663-2113
For more information visit, beaverhillplayers.com.
The Gallery
Home to the Studio 14 Art Association, a group of local visual artists
Holden Lutheran Church, 4916 - 49 Avenue
(780) 688-2052
Hicks in the Stix Jamboree
Old time music and dancing
Kinsella Community Centre
305 King Street
(780) 336-2157 
Kinsella Performing Arts Guild
Dinner theatre performances between November and January.
Kinsella Hall and Recreation Centre
(780) 336-2445
Nikko's Dance Team
Nikko's Dance Team offers youth and adult dance classes that run between September and May. With a membership of approximately 135, the Team performs at festivals, local events and a year-end performance at 7 p.m. on the last Saturday in May at the Tofield Arena. (780) 688-3715
Tofield Art Gallery
Collection of local art, including a display of slate paintings. Seasonal art lessons.
Viewing is available upon request year round.
5020 - 48 Avenue (Beaverhill Lake Nature Center and Museum)
(780) 662-3191 July-August, or (780) 662-3269 offseason
Katchemut Creek Family Horse Club
The Katchemut Creek Family Horse Club is a non-profit gymkhana club that operates out of the Tofield Fairgrounds
Riders of all ages participate in barrel racing, pole bending, stake race, flag picking and keyhole events. The club meets every second Sunday between May and October at the Fair Grounds in Tofield and also has trail rides. For more information call Ken@ (780) 499-8187 or Jill @(780)722-6050.
Gravity Dance Force
The Dance Studio...Just For Your Dancer
Dance for all ages and levels from 2-102!!!
Tap, Jazz, Ballet, Hip Hop, Musical Theatre, Acro Diva`s, Diva`s & Dudes, Fabulous 5`s, Lyrical/Contemporary, Preschool-Princesses & Fairies, Lions, Tigers & Bears, Mini Gym Dance and Karate. Full Season Classes 6 week toddler sessions. 
5115-52 ave
email - Twyla@gravitydanceforce.com
Viking Dance Club
Season runs October 1 - April.
The Viking Dance Club provides lessons in Jazz, Tap, Ballet, Hip Hop and Lyrical to children ranging in age from four and up. With a membership between 40 - 50 kids, the Club performs at festivals and local events. Watch the local papers for details about their year-end recital at the Kinsella Community Centre.
(780) 336-2254
Viking & Area Gymkhana Club
Riders in eight different age categories participate in prearranged events, such as barrel racing, pole bending, stake race, flag picking and keyhole. The club meets ten times between May and September at the Rodeo Arena in Viking and also has trail rides.
(780) 336-4832 or (780) 336-2158