Camp Lake Park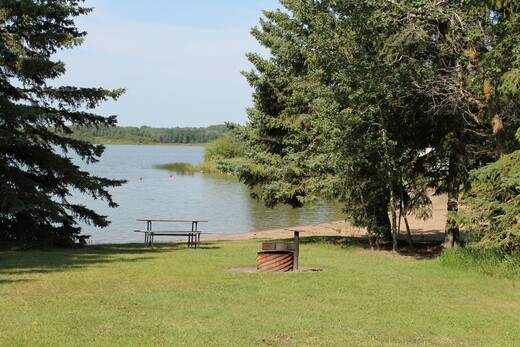 Camp Lake Park Campground reservation system is now open for reservations beginning May 17, 2023. See Online Reservation System below to book.
Camp Lake Park features two beaches, a boat launch, boat trailer parking, picnic shelters/cookhouses, and a sewer dump station for your convenience.
Take in some swimming, boating, water skiing, sailing, canoeing, kayaking, paddle boarding, at either one of the 2 beaches. A playground, hiking, horseshoes, tetherball, basketball hoop, volleyball court and beach volleyball are also available for your enjoyment. 
The concession is located at the entrance to the campground where you will find flush toilets/showers, firewood, ice cream, and other concession items for sale cash/credit.
If you have any questions, please contact Susan at the Beaver County Service Centre @ 825-385-0069.
Reservations open for bookings March 1, 2023 @ 9:00am.
Campground is open May 17, through to September 4.
Before booking online please review the Camp Lake Site Map.
Bookings can then be made at www.campreservations.ca
Note: An an e-mail address and credit card are required to make an online reservation.
48118 RR 112

18 km east of Viking on Secondary Highway 619 and 2 km north on RR 112.

15 minutes east of Viking, one hour and 45 minutes east of Edmonton.
Regular office hours are 10:00am - 8:00pm
Open May 17, until September 4.
73 sites available. 
Day use is available free of charge
Cook houses and change rooms are available for public use 
Water taps are located outside the concession to fill your trailer tanks.
Caretaker is on site 24/7, all campsites have firepits and picnic tables.
Garbage, flushable toilets, showers, pet waste and recycling stations are located throughout the campground.
Please note all operators of motorized boats are required to obtain and carry a Pleasure Craft Operator Card regardless of age, length of both engine or engine horsepower. These will be requested to be shown at the Camp Lake Park Campground Office, to ensure safe driving on the Lake.
Maximum 2 pets per unit
| | |
| --- | --- |
| Power Sites | $36/unit (tents included) |
| Non Serviced Sites | $30 (tents included) |
| Day use | no charge |
| Pets | no charge (unless dog waste left in site) |
Note: Rates do not include GST.
Group sites - minimum of 3 units are charged at time of booking, if you add more units including tents you will be charged upon arrival and must register at the office.
For all sites check in is at 4:00pm and check out is at 12:00 noon.
To provide for better management and visitor satisfaction Beaver County has implemented a policy for Reservations, Cancellations and Refunds.
The policy provides restrictions on over-booking and last minute cancellations resulting in more sites being available for  other campers. The policy also ensures that the reservation holder is responsible for the actions of all-party members. Refunds will not be given for an eviction, vacating a campsite early, or for inclement weather. 
The policy is based on practices which have been used in the past, and is based mainly on the refund policy established for Alberta Provincial Parks campgrounds.
To view a copy of the Reservation/Cancellation/Refund Policy click here.