Village of Holden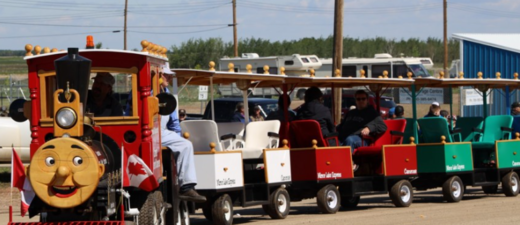 "Share the Charm of Country Living" is a fitting slogan for this century-old Village. Located in the heart of Beaver County, at the crossroads of Highways 14 and 855, Holden has a rich history and hard-working citizens, over 350, who preserve it with pride. Holden also looks forward to a bright future where residents, commercial business owners and visitors will continue to enjoy the refreshing serenity that its rural setting offers.

The Holden Historical Society operates an accredited Museum in one of the village's oldest buildings. It promotes local heritage through education, events and the display of a fine collection of artifacts. Painted church tours are arranged each summer and offer an informative view of historic art and culture.   

Farmer's Day, an annual Holden event, is held on the second Saturday in June. The Holden Agricultural Society and the local Soapbox Committee set up a full day of family fun. Pancakes and parade, afternoon races, market, kids' tent, supper and fireworks bring local folks and visitors together for a great early summer celebration.
The Beaverhill Players is an amateur theatrical group, based in Holden. They proudly present live theatre in the newly named Paragon Theatre (Beaver Arts Centre). A very popular Junior Players program began in 2010. This brings drama experience to children in the Beaver region.

Many fine facilities offer area residents a choice of activity and community involvement. The Holden Complex, operated by the Agricultural Society, has a skating arena and an indoor show area for 4-H clubs. Holden Municipal Library offers an exceptional program of inter-library book lending, along with computer training and technology access. The Holden Community Hall is available for rent and is the setting for a Parent Nursery playgroup and the local branch of Royal Canadian Sea Cadets. A Senior Drop-in centre is conveniently located on Main Street and holds regular activities. For the young ones, a Community Playground sits adjacent to our popular Spray Park. A Legion Hall, several Churches, Sports Grounds, Campground and a Nature Park round out the village resource roster.

The Holden business community provides all the essentials. A good meal is easy to find, groceries and fuel. For broader shopping or service needs, their central location offers easy access to six larger centres within a twenty minute to one hour range of travel. 

Country living means quality of life and hospitality. You will find both of these in the Village of Holden. Come visit, or put down some roots here. You're always welcome.
For more information, call 780-688-3928 or visit the Village of Holden.
Holden Complex
Ice arena, meeting area
5123 - 50 Street
780-688-3910
More info

Holden Spray Park, Play Grounds, and Fair Grounds
780-688-3928