Police (RCMP)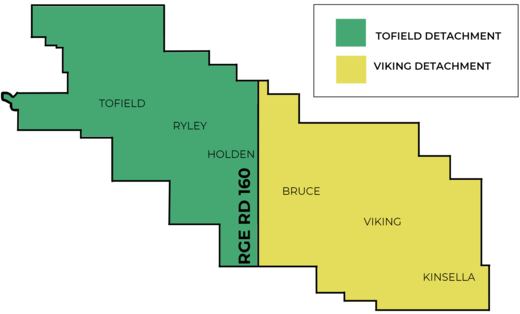 In the event of an emergency, or to report a crime in progress call 9-1-1
Tofield Detachment (Tofield, Holden and Ryley): 780-662-3353
Viking Detachment (Viking, Kinsella and Bruce): 780-336-3441
Crimestoppers: 1-800-222-TIPS (8477)
Report a crime online at the Alberta RCMP website
Alberta RCMP App, available on the Apple App Store or Google Play Store
Rural crime is often linked to Organized Crime groups who target and exploit rural communities. Examples of rural crime include:
Motor vehicle theft
Damage to property
Break and enters
Trespassing
These crimes should be reported to the police by calling your local police detachment or an online report.
Importance of Reporting a Crime
Oftentimes we may think a crime is insignificant, but reporting it contributes to the larger picture of policing in Alberta. When you don't report a crime, it impacts the overall responsiveness in your rural community. The information from these reports help the RCMP decide where to send their patrols.
The Alberta RCMP supports community engagement by providing the public with the tools, resources and information they need to uphold public safety – for themselves and for their communities.
The online map enables the Alberta RCMP to share current criminal incidents with members of the communities they serve across Alberta.
The RCMP hopes that the map will help encourage citizens to report suspicious activity to the police.
To access the mapping tool click here 
Beaverhill Rural Crime Watch is a volunteer organization committed to prevention of crime. As an organization, its mission is working together for crime prevention and awareness, as we strive towards a safe and crime free community.
They aim to educate the community on prevention, and work together with the RCMP and other law enforcement agencies towards their crime prevention goal.
For more information: